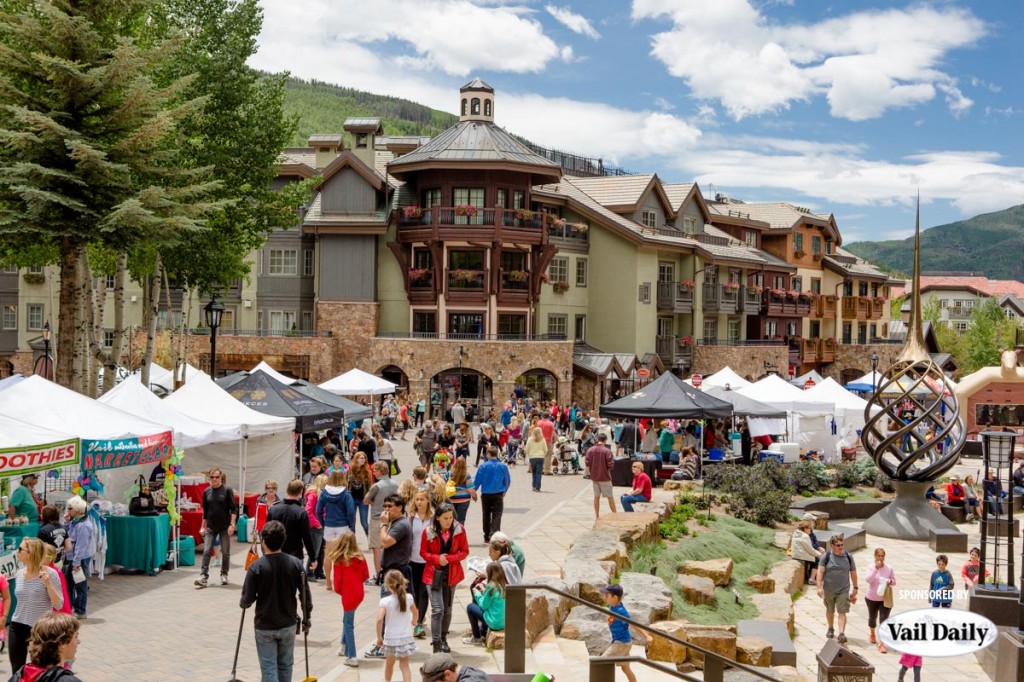 THE 2020  FARMERS' MARKET IS NOW ACCEPTING APPLICATIONS. PLEASE FILL OUT THE VENDOR  FORM FOR OUR STANDBY LIST. We are full for 2020. Feel free to fill out, so we have your information.

The 2019 Vail Farmers' Market & Art Show has been a huge success. We estimate 250,000 plus folks visited the Market. We have had 146 tents, bands and great kids' activities e.g. mechanical bull, train ride, bounce castle, caricatures, portraits and free balloons. We promoted the Market in newspapers, radio stations and social media. We know of no other market that comes close to the advertising, activities and entertainment that the Vail Farmers' Market & Art Show provides.
The 2020 Market will run every Sunday from Fathers' Day (June 21st through October 4th. Hours of operation are 10:00am to 3:30pm). We are watching what occurs with COVID-19 and will keep you updated with dates of event.
We will keep our focus on farm & food products while we also promote our artist/artisan presence. We've found that our artistic dimension has helped make the Market attractive to a larger audience of visitors.
We generally know at least a week in advance that affected vendors will not be participating. If you decide to participate in this program, you will generally be notified on Monday/Tuesday that there is an opportunity to participate the following Sunday. You would then have a day to decide if you want to participate that weekend.
Attached is a Standby application for the 2020 Market. The fee is $80 per Sunday we ask you come when we call for three Sundays i.e. $240. Any unused funds will be returned at the end of the season. Also, the Town of Vail requires vendors who do not have a Vail Business License to purchase a $75 Special Event/Sales Tax Permit and to pay a 4% sales tax. An application is available on this website. It is due with your application.
Being a Standby vendor will give you an opportunity to find out if the Vail Market works for you and your product. It also puts you in a better position to become a full time vendor if someone drops out.
Standby vendors will also be added to our list of vendors who will be notified when applications are available for the 2020 Market. However, the number of standby slots is limited so if you're interested in participating, you should send your application in very quickly. We do not allow any jewelry, clothing or accessories in the market unless you own a Vail business.
Angela Mueller
vailfarmersmarket@gmail.com