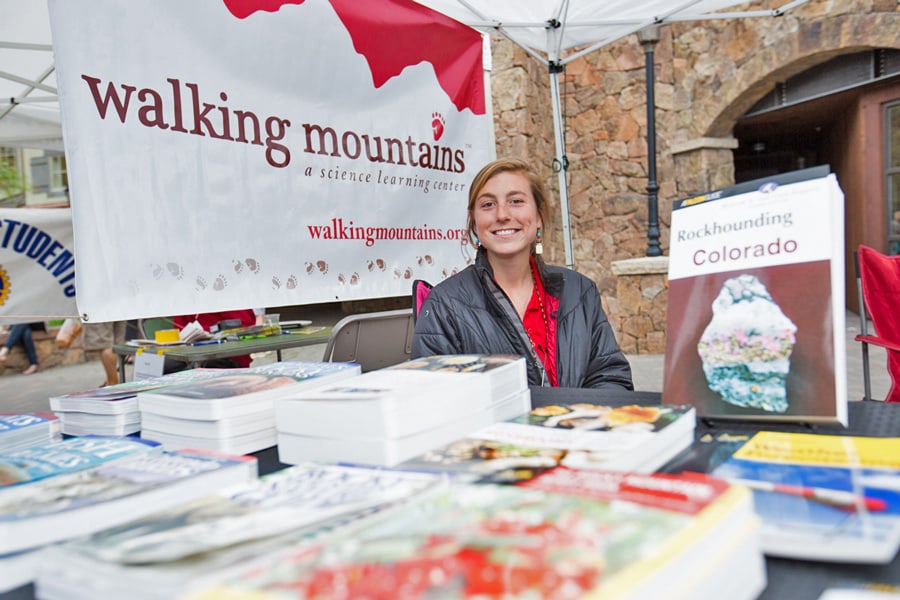 Free Nature Walks
Join a Walking Mountains Naturalist on a guided tour along the riparian corridor of Vail's beautiful
Gore Creek! Participants meet at the Walking Mountains' booth and leave for one-hour-long tours
at 11am and 1:30pm. Tours are free, but donations are always encouraged. You can also visit our
booth to learn about our many summer programs.
Guided Backcountry Experiences
New this summer–Walking Mountains is offering guided half day hikes each Sunday afternoon from
12:30 to 4:30, leaving from the Vail Farmers Market! Hikers will meet their guide at Walking
Mountains' booth at 12:30 pm, where the group will load a Walking Mountains van for a quick 10-
15 minute drive to a local backcountry trailhead. After the hike, your guide will drop you at one of
four convenient locations (Vail Village, Lionshead Village, West Vail or the Minturn Park & Ride).
Hikers should be prepared to spend 3 hours on the trail, rain or shine! Registration is $30 per
person. To sign up, or learn more about our full summer hiking schedule (including full day hikes to
alpine lakes, summits, and 3 of Colorado's famed 14ers) visit our website or stop by our farmers'
market booth!
About Walking Mountains Science Center
This local nonprofit manages three locations, all of which run programs for families, kids and adults
– the Science Center in Avon, the Vail Nature Center in Ford Park, and the Nature Discovery
Center atop Vail Mountain. For program times and dates, please see our website.
Vail Nature Center
A farmhouse perched between an alpine meadow and the forested bank of Gore Creek houses the
Vail Nature Center. This seven-acre facility, in the heart of Vail, is a tranquil gem whose
knowledgeable staff hosts informative bird, wildflower and beaver pond hikes, and nature art classes.
They even offer stargazing after dark or an opportunity to experience Vail's stunning backcountry.
With such a wide variety of offerings, The Nature Center is open seven days per week Memorial
Day weekend through Labor Day weekend, plus autumn on a limited basis. (970) 479-2291
Walking Mountains Science Center
Located in the heart of Avon, the Science Center is the perfect place to bring the family for an
afternoon of respite and nature exploration. Visit our exhibit hall to learn about our valley's geologic
history and mountain life cycles. Enjoy one of our many programs – nature walks, hikes, preschool
programs, science behind programs and more! Or just stop by to experience our beautiful grounds
and interpretive trails – one of the valley's best spots for a picnic or lunch break with stunning
Beaver Creek views! Open 9am to 5pm daily in the summer. (970) 827-9725
Nature Discovery Center
Located at the top of the Eagle Bahn Gondola on Vail Mountain, guests can visit the Nature
Discovery Center yurt to learn about the animals and plants of the Rocky Mountains. Free guided
nature hikes for all ages leave the yurt daily at 11am and 2pm. Or visit our naturalists in the yurt for
an in-depth introduction to some of our area predators and those that sustain them! Open daily in
the summer plus autumn weekends. (970) 754-4675