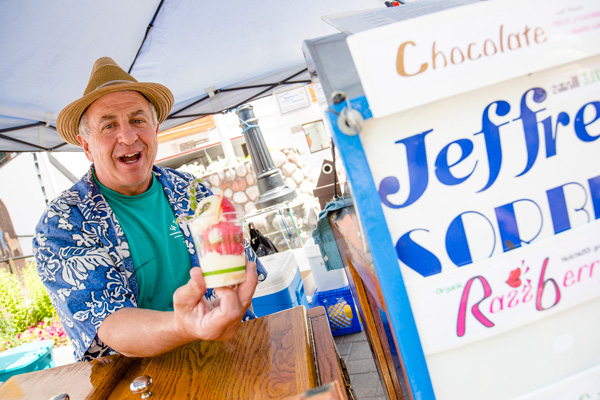 Jeffreezz Jelato, formerly Jeffreezz Aspen Snowbetto, has been quietly churning out locally produced sorbets in Western Colorado for close to 30 years.
Sicilian flair melds with Russian artistry in these masterfully concocted desserts. Jeffreezz loves to combine fresh fruit paired with piquant spices and varietal honey blends, to produce wonderful, light, healthy desserts!
In his youth Jeff Isaacson learned from his mother "of course," that to truly enjoy the fruits of your labor, "One must toil," well little Jeffrey took that to mean "I must freeze!" Every Sunday dinner after at least two helpings of his Ma's pasta, 'Jeffreezz' was delegated to whip up a dessert of lemon ice. What a superb ending to such a full dinner, light, zesty, and easy on the stomaco!
Years later Jeffreezz forsaking years of college, joined the ranks of Americas Beekeeping Industry. Raising honeybees in Western Colorado for 12 years, he was unable to train his loyal bees to churn the crank of his homemade ice cream maker. So continuing with the tradition Jeffreezz can still be seen making his favorite 'ices and sorbetto'.